Working Time
Monday:

10 AM - 5 PM

Tuesday:

10 AM - 7 PM

Wednesday:

10 AM - 5 PM

Thursday:

10 AM - 7 PM

Friday:

10 AM - 5 PM

Saturday:

by appointment

Sunday:

Closed
Contact Info
infoOptions.Value.Street,
infoOptions.Value.City, infoOptions.Value.State
Transform Your Smile with a Smile Makeover at GDental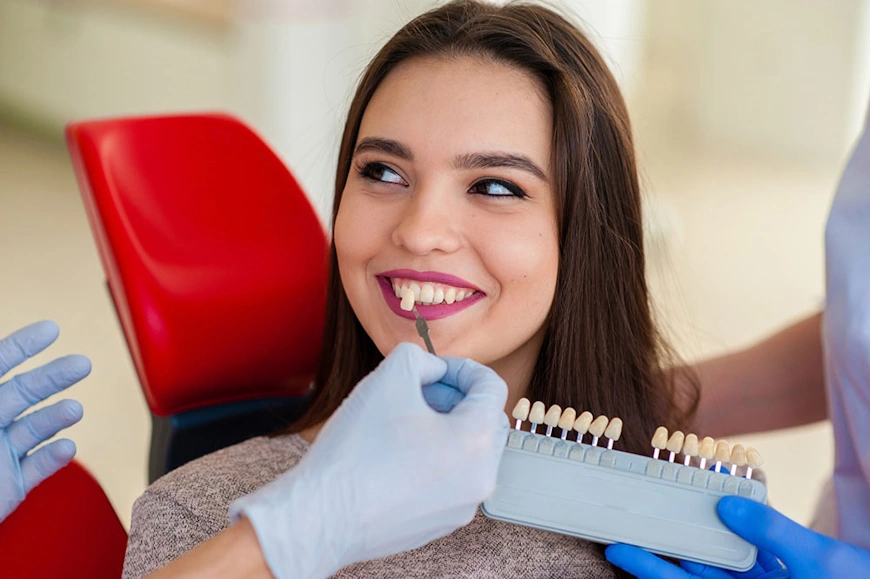 If you often conceal your smile or steer clear of social situations, a smile makeover from GDental might be just the solution you're looking for. Our custom treatments can resolve various concerns affecting both your oral and mental health.
Conditions Addressed by a Smile Makeover
Whether it's slight imperfections or more serious issues affecting your oral health and aesthetics, GDental can help. Common problems include misaligned jaws, crooked teeth, and discolored teeth.
Types of Smile Makeover Treatments
At GDental, we offer several treatment options to improve your smile, each tailored to your specific needs:
Teeth Whitening
Teeth whitening is a popular choice for tackling stained or discolored teeth. Our professional in-office treatments produce almost instant results.
Crowns and Veneers
Whether due to trauma or natural wear, crowns and veneers can restore chipped or broken teeth, giving you back a confident smile.
Dental Implants
For missing teeth, GDental recommends dental implants as a durable, long-lasting solution, providing a natural look and feel.
Dental Bonding
This quick treatment involves applying a bonding material to the affected tooth, making it ideal for correcting minor imperfections in just one visit.
Composite Dental Fillings
Forget about silver fillings; opt for composite dental fillings that match the natural color of your teeth and contain no harmful metals.
Gum Recontouring
If a gummy smile is your concern, gum recontouring at GDental can reshape your gum line, making your teeth appear more proportionate.
Clear Aligners
For teeth straightening without the discomfort of traditional braces, clear aligners are the go-to option at GDental.
Take the First Step Today
Whether it's for cosmetic or health reasons, a smile makeover at GDental can transform how you look and feel. Schedule an appointment with us to explore the best treatment options for you.